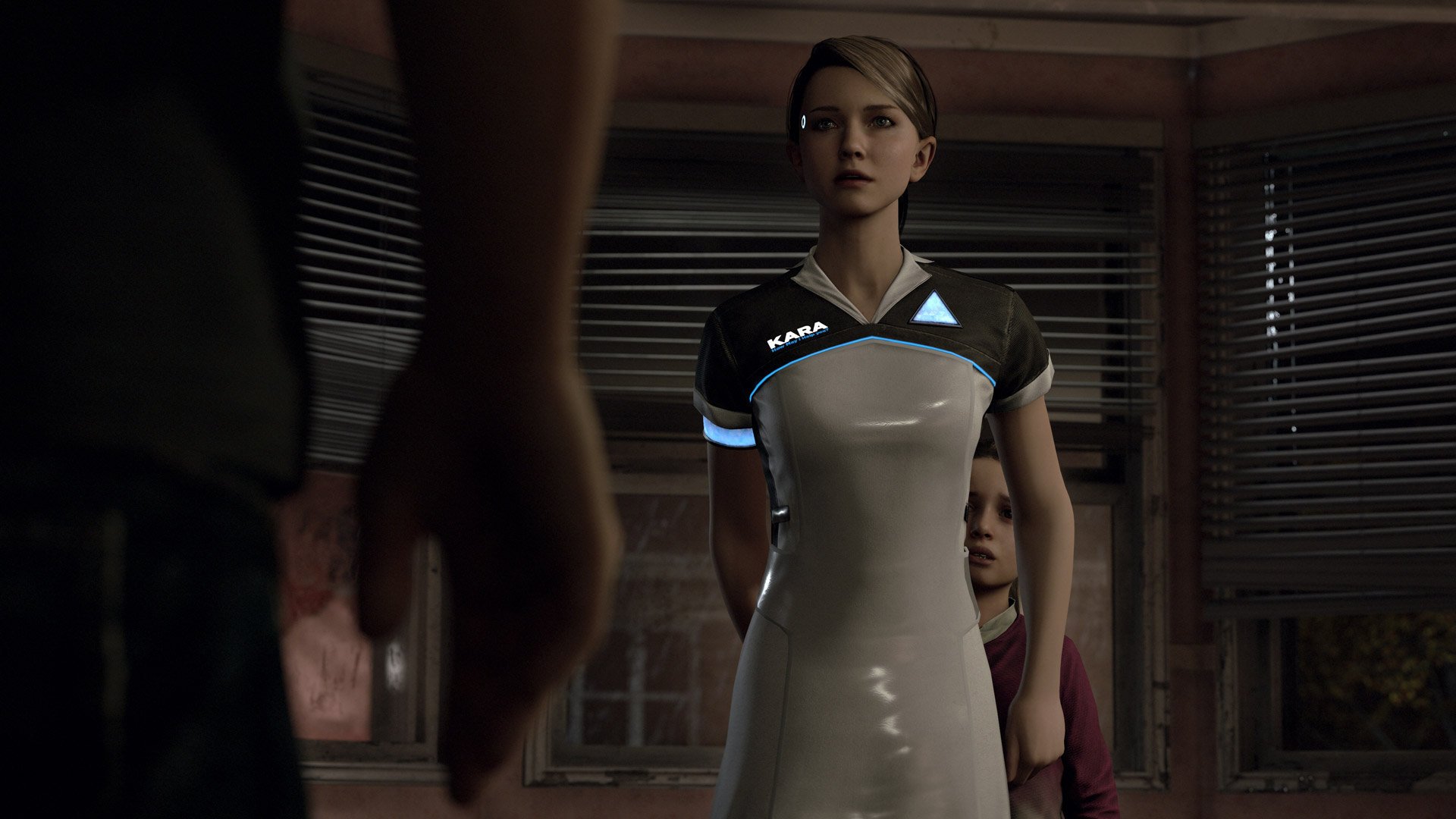 Kara was the first member of
Detroit: Become Human
's android trio we ever met. Initially introduced in the
PS3 concept piece "Kara"
a full six years before the game itself first came to be, she became something of the mascot for the game. Initially she was a fresh new android, bright and happy and self-aware within moments of being switched on—and fearful of a factory reset for sale.
By the time of
Detroit,
she's in a home (not a great one) and has a story of her own ahead of her. Her desire to live curled up one hell of a finger on the monkey's paw, because her move from sentience to freedom (you know, depending on how well you do) is more life in a few short days than many humans get in give-or-take a century. In particular, her story line focuses on family: gaining it, losing it, protecting it, and how being a part of one alters your values.
For Kara, "family" means Alice—the daughter of her former owner (though we of course learn it's a lot more complicated than that)—and eventually new deviant Luther. Kara quickly takes on a very maternal role, with action trees that run the entire gamut from light touch to full-on Mama Bear Mode. How she plays this role, of course, is up to you; but the results of her actions aren't necessarily what you might expect. And therein lies one of the hardest truths about holding together a family.
To start, if it isn't obvious enough from this patchwork of a family, families are not required to be blood related to be valid. While there are absolutely genetic and evolutionary elements that encourage parent/child bonding, it is not the only way this can be achieved. In some case it may not even happen, or be overshadowed and outstripped by any number of factors.
The point is, D:BH strips us of the "genetic" aspect from the get-go, anyway. Kara's bonds to Alice, and later to Luther, don't spring from shared genetics or evolutionary traits; they develop, just as those traits can develop in us with the creation of foster families and close friend groups. Blood ties are not obligatory for these familial instincts and responses to grow in us—love is.
The miniseries Jekyll reframed the story of Dr. Jekyll and Mr. Hyde as a conflict between logic and instinct when it comes to love of family. "Love is a psychopath," the protagonist's mother says, as well as being "our oldest, deadliest impulse." Parents know that, when the needs and safety of their children are at stake, they would just about anything at the expense of just about anyone else. It's not a genetic trait: adoptive parents are just as staunch in this. It's what comes of that peculiar mix of fierce love and all-encompassing responsibility: the knowledge that, actually, you probably could straight up kill someone for this person who, at least for now, relies entirely upon you.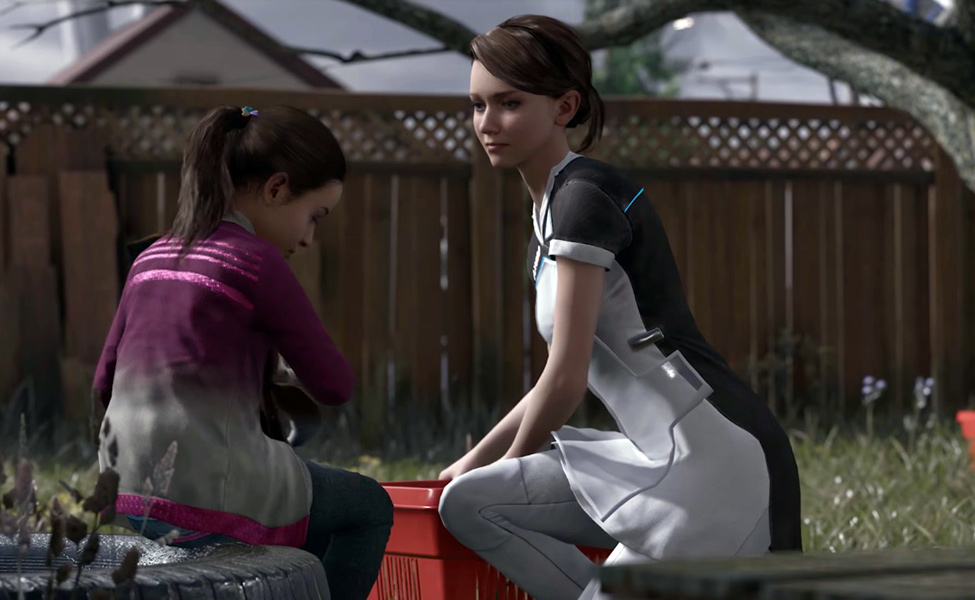 Video games are funny, though. They give us these little screens with insight into the deeper aspects of what's going on. Some tell us exactly how many hits our character can take before death; others dole us out a map as we explore a dungeon, ensuring we never have to rely on our memory to navigate it. In the case of D:BH, we get a few extras to guide our experience. But a major one is each character's opinion meter: showing us in real time how what we just did altered how we appear in the eyes of our loved ones, our peers, and (in the case of Markus's story) the world at large.
For Kara, her most important meter is Alice. It's consistent across different actions and thus becomes relatively predictable, but it flies directly in the face of those fierce familial instincts. As you look for safe haven, you need to provide for Alice. You might (depending on how you play) be willing to do literally anything for her, from stealing bus tickets to pulling a gun on an unsuspecting shopkeeper. But no matter how much you know Alice needs things, her reaction to Kara stepping off the straight and narrow will always, always be a loss of respect.
This is understandable for a lot of reasons. Up front is Alice's own experience with abuse. Abusive people rarely start that way. They can seem fine at first, else we'd run. Abuse creeps in slowly, whether because the abusive person is changing slowly themselves or because they're learning what they can get away with. Watching Kara break more and more rules—a theft here, a threat there—would obviously trigger feelings of fear that the one person she has left in the world is going the same route as her father.
For another thing, Alice has a very idealized view of Kara and the life they could have together. Combine that with her own very tried-and-true moral compass, and what may seem to you-as-Kara to be necessary evils and personal selflessness will register to her as disappointment and unnecessary cruelty to others.
As the player, the question becomes what's more important to you: Alice's love and trust, or her well-being? I will admit as a player I always did my best to look for Other Ways—as much as I wanted Alice to survive, I didn't like the idea of her living on with someone she'd grown to dislike or distrust in an already unpleasant world. Your mileage may vary... maybe Alice's approval is all that matters. Or maybe you're willing to be hated as long as she's looked after.
As with Connor's own journey in finding validity in himself and others, this isn't a purely fictional setup. We may be willing to sacrifice everything, from the happiness of others to our own reputation, to make sure the people we love are safe and happy. But it's important for us—parent, child, friend, caretaker, what have you—to remember that our loved one loves us back. Seeing us break a law can hurt just as much as an empty stomach. Seeing us willing to sacrifice a stranger's needs to provide for a loved one can be scarier than being attacked.
We think about how we could take, or shoot, a bullet for someone; we don't always step back and question whether that is what they would want from us. All those elements—what we could do, what we should do, what they want us to do, what's necessary regardless of what anyone wants—form a complicated matrix for which there's really no consistent right path. As I established last week, having emotions is kind of a bitch.
Next week, I'll wrap things up with a look at Markus's storyline and a constant favorite thing of mine: So Much Biblical Symbolism.